Getting married in a luxurious STROHBOID event tent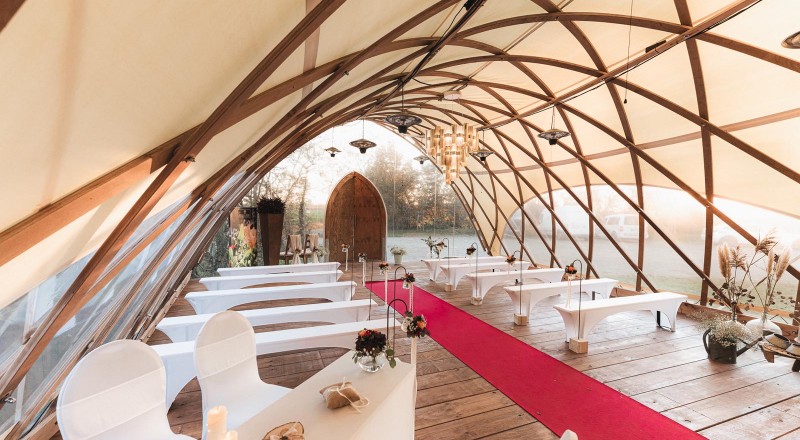 Finding the right wedding location can be difficult – how about getting married in an event tent? STROHBOID's sustainable event tent scores with its exceptional aesthetic design and allows for a year-round, weather-independent wedding ceremony both indoors and outdoors.
You can rent the event tent, which comes in different sizes, not only for your wedding, but also for company parties or events of any kind. Since the event tent is based on a modular system, it can be individually decorated and set up for any occasion without compromise.
Wedding of a special kind in an event tent
A wedding is a special occasion in itself, rather than a daily occurrence. By adding a wonderful event location to this extraordinary festive occasion, the wedding can be turned into an unforgettable dream wedding.
The STROHBOID event puts an end to claims that dream weddings are only possible on a beach in the Maldives or in Tenerife. The tents look modern and chic, are sturdy and weather-resistant and come with an aesthetic and unique design made of sustainable materials. The weather resistance in particular makes it easier to plan a wedding: No matter if rain, storm, heat or cold – the tent will not let you down on your very special day.
Stage, bar or a sea of flowers – customise the wedding tent
The marquee can be set up and decorated according to your individual wishes – from bar tables to angular banquet tables or a long table. It does not matter whether the motto of your wedding is "summer, sun, beach and sea" or you are aiming for a forest fairy, hippie or medieval wedding – the number of possibilities is almost limitless.
Decorative elements of all kinds can be mounted on the side walls, the installation of a bar or a stage is just as possible as the use of bar tables for a champagne reception. The wedding tents are large enough (up to 330 m2) to provide space for all these elements as well as sufficient seating for later gatherings.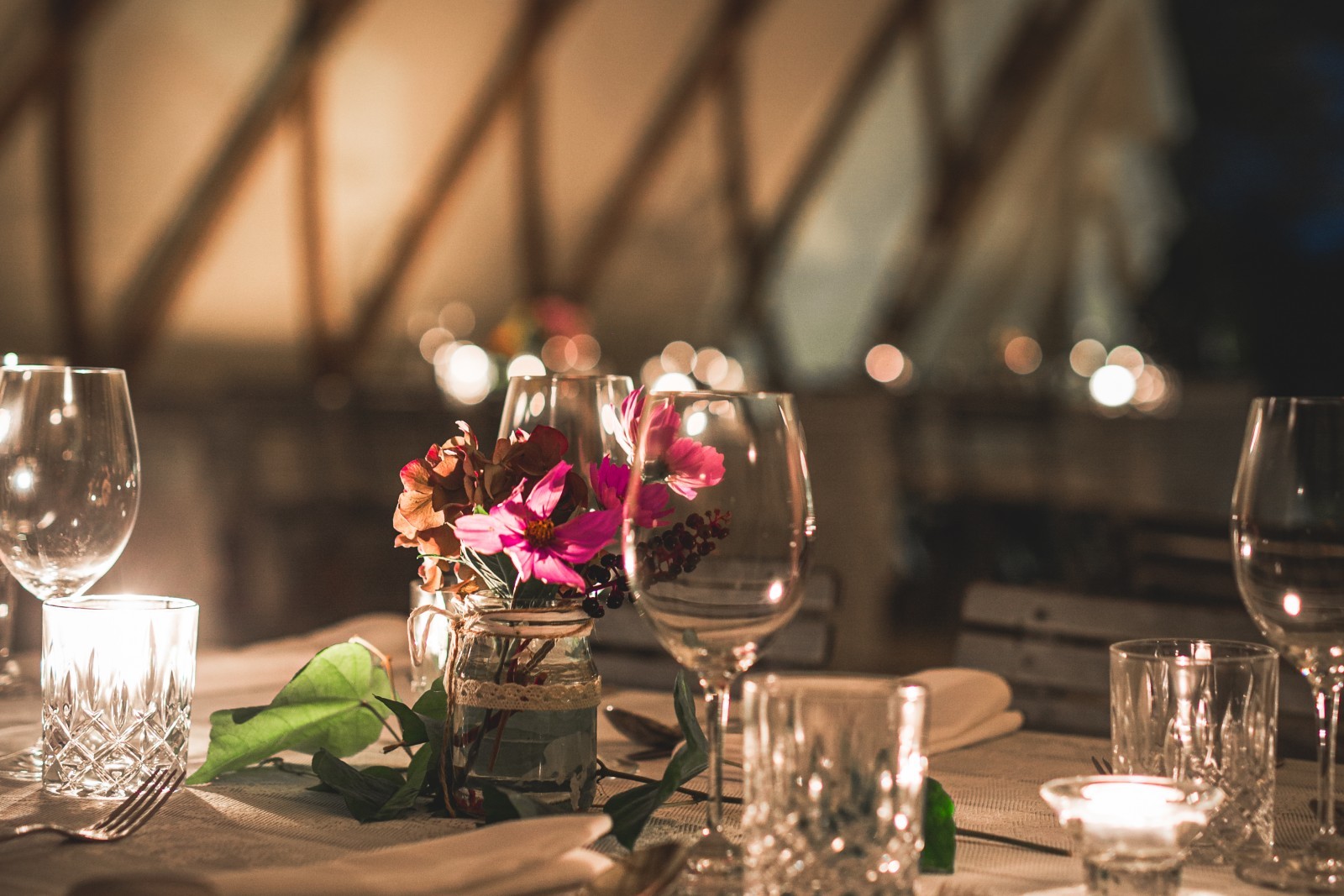 Unique design for a stylish celebration
A STROHBOID event tent does not have much in common with a conventional pagoda tent. The biggest difference is in the design. While a pagoda tent only consists of a metal rod and a bright white plastic cover, the STROHBOID event tent relies on natural materials such as wood. The floor and the support structure are made of beech wood and covered with a translucent airtex magic membrane in natural beige. The translucent roof creates an unmistakable and natural light and feel-good atmosphere, which is difficult to replicate at wedding parties that use artificial light.
The wooden lattice shell and the hyperbolic paraboloid, which so far have hardly been used for gazebos, party tents or marquees, lends a unique visual appeal to the STROHBOID event tent that does not require additional decoration or elaborate table linen.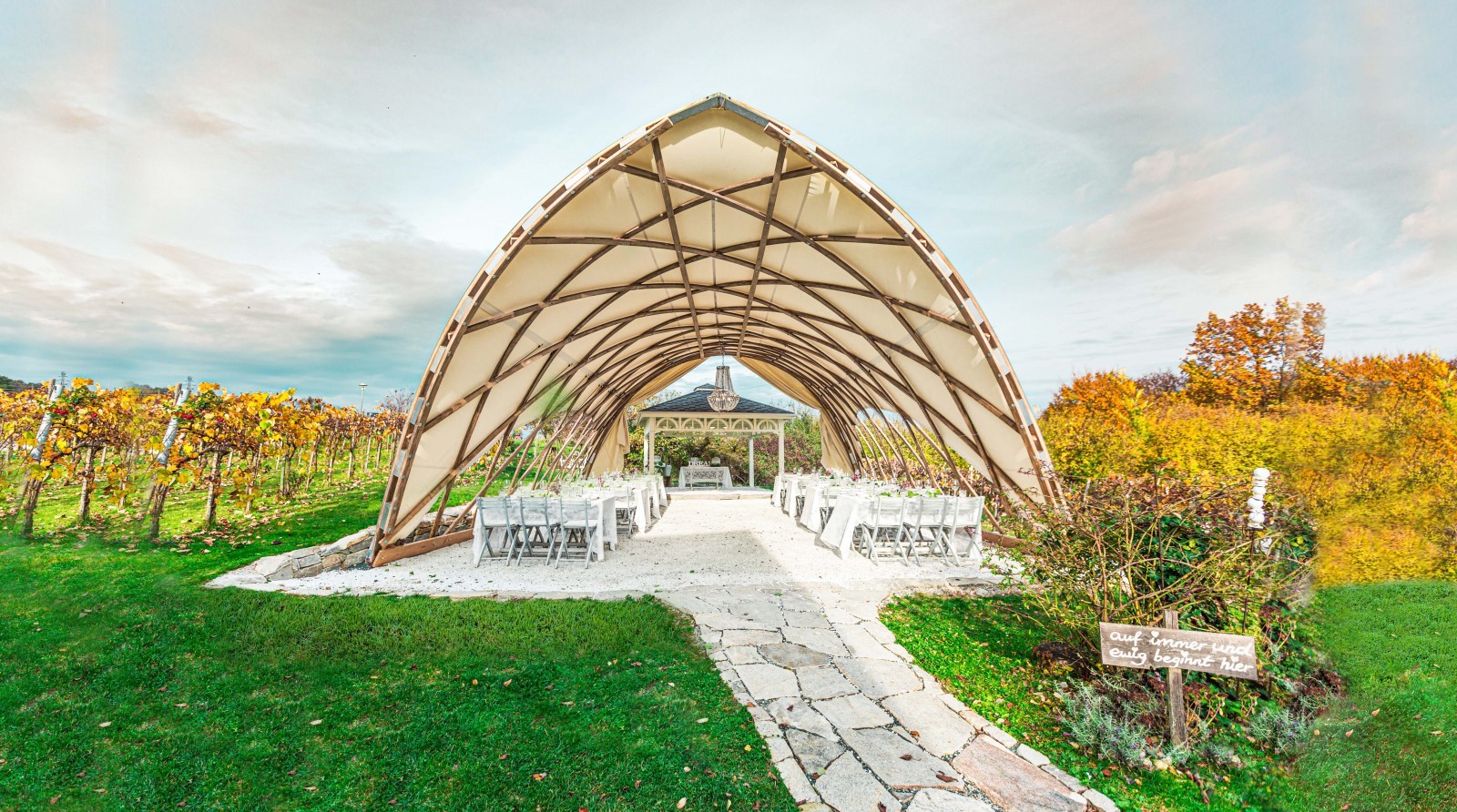 Celebrating weddings all year round
When planning a wedding the question of the right time is an important one. It should neither be too cold nor too hot, ideally the sun should be shining, it should be windless and dry. Especially if having the wedding celebration in a tent, the weather has to be stable so as not to dampen the bridal couple's' and the guests' mood.
With the STROHBOID event tent, however, you can put all your worries aside. The membrane withstands wind peaks of up to 170 km/h and snow loads of 200 kg/m2; it is waterproof and flame retardant. Due to its organic curvature the wooden vault is aerodynamic, which means that on the one hand gusts of wind can flow off while on the other hand it provides the construction with a better inherent stability.
You can even relax in terms of temperature: High temperatures or stuffy air can be regulated by zippers on the side walls as well as via open side panels. For weddings in cold months, the tent can be heated via an infrared heater, and UV/sun protection is guaranteed in any weather. Wedding cakes that are carried away by the wind or melting in the sun should therefore no longer be one of your worries.
Modular system for individual needs
The STROHBOID event tent is modular and therefore individually adaptable. You can choose from six different sizes (20-330 m2) with three different basic fitments:
The basic version includes the wooden structure, the translucent membrane, side windows and curtains.
The Pro version includes the wooden floor in addition to the basic fitments
The Comfort version includes a transparent gable tarpaulin and a pointed arch door.
Additionally, you can also decide for or against infrared heating and further individual adjustments on request.
Focus on naturalness – letting the environment take effect
A sustainable construction and the use of natural and environmentally friendly resources are becoming increasingly important, not least because 40% of all CO2 emissions are caused by the construction sector and the heating of buildings.
This is why STROHBOID sources all the sustainably grown beech and spruce wood used for their environmentally friendly event tents from Europe only, as this reduces production energy for wooden structures by 80-90%, and wood is climate-neutral due to binding CO2.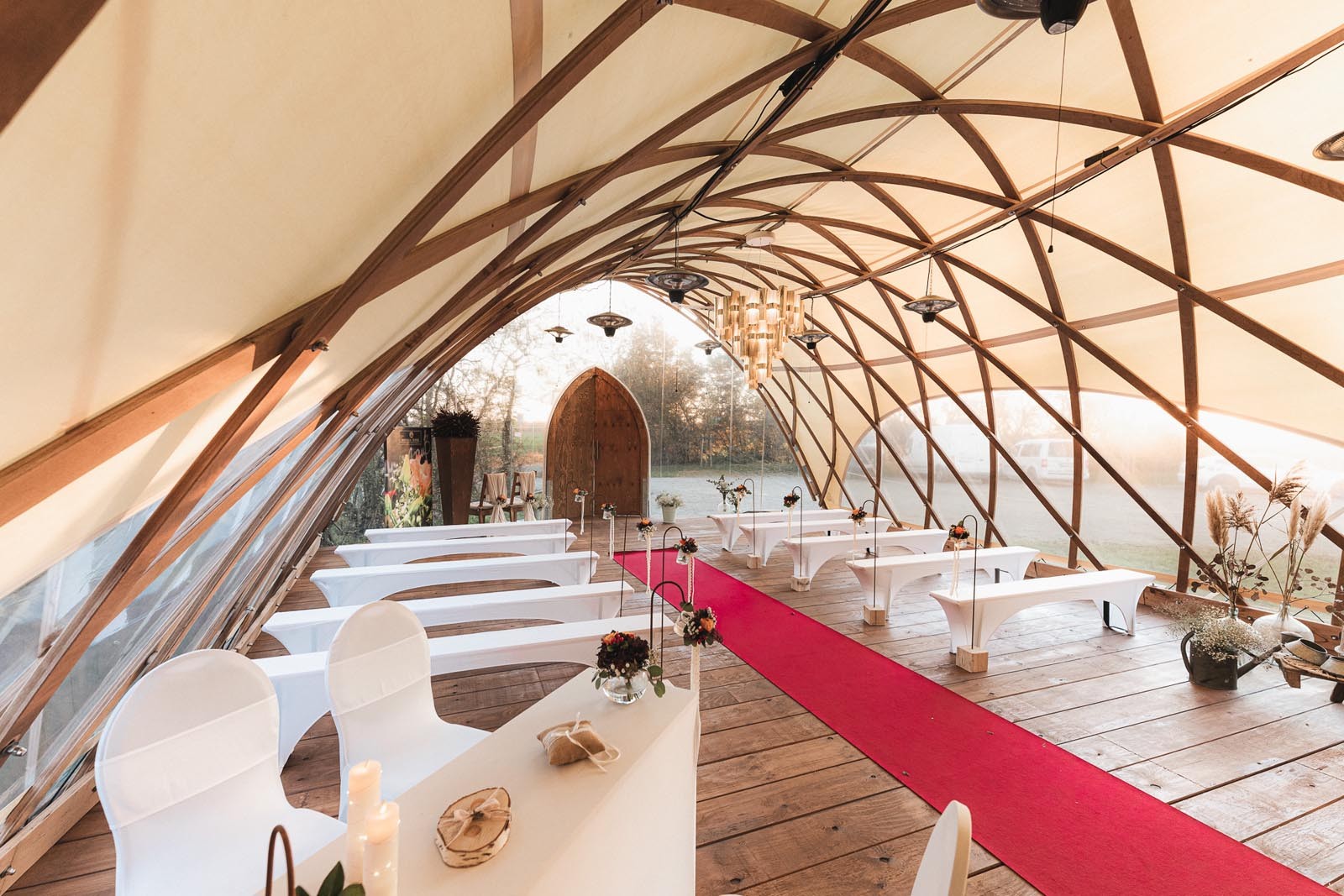 Sustainability also means that the construction and design of the building blends into its natural surroundings. That is why STROHBOID design all their party tents, gazebos and canopies in curved shapes that are based on a hyperbolic or elliptical paraboloid. In addition, this design is also material-saving, which is another important environmental factor.
STROHBOID event tent rental
It does not necessarily pay off to purchase an event tent to host a unique wedding or an extraordinary corporate event. That is why STROHBOID offers a tent rental service. The tent rental includes set-up and dismantling and the rental period is a week. This allows you to devote yourself to plan a wedding or decorate at corporate or Christmas party without being pressured by time.
---
---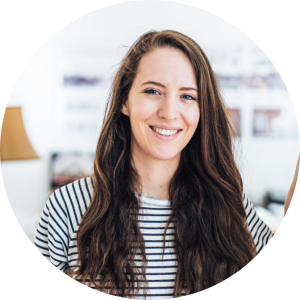 BA Lisa Neureiter
Marketing & Design