Hotel comfort in the wild
A guest's wishes, such as the longing for originality and the experience of nature, have to be catered for: Make them an inherent part of your offer.
This is exactly where STROHBOID lounges come in: Whether as a charming dining area or location for special events - the transition from inside to outside is blurred in our sustainable outdoor areas that don't require extensive and complex renovations.
What clearly speaks for a STROHBOID lounge
high recognition value through unique design
sustainably produced in Austria
heatable & winter-proof
rain- & storm-proof
Durability: 25 years+
Installation within a few hours
Different sizes for your needs
Choose size
Lounge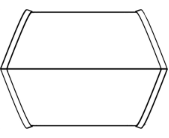 Whether studded with fine garden furniture made of polyrattan, lined with seat cushions or a few comfortable armchairs in it: even in a small space, the STROHBOID lounge with its simple, timeless design creates striking outdoor spaces - as a private retreat as well as an exclusive space for your business.
High ROI
Aesthetic and profitable space gain: in only 1 to 2 years your investment costs are covered.
Sustainability
The manufacturing of one lounge binds 2 tons of CO2 and consumes only 1.5 tons of CO2.
Design protection
STROHBOID structures are unique: our iconic design is protected.
10 Years Warranty
10 years warranty on the wooden structure and metal connecting parts. 10 years warranty on the membrane.
Glamping tent product features
👈  Click on the numbers to find out more.
The exclusive appearance of the STROHBOID lounge lends an innovative and sustainable style to your outdoor area . 
What also makes the structure unique: It can withstand gusts of wind up to 170 km/h and the enveloping membrane ensures a distinctive atmosphere.
STROHBOID wooden structure and flooring
Regionally sourced solid wood (LVL spruce/ Kerto). Due to the high-tech processing and innovative lightweight construction, this construction is enormously dimensionally stable. The wooden elements are treated with a natural exterior oil. The knotholes remain in their original form during processing and thus make each product unique.
Translucent membrane roof
The 2-layer and translucent membrane of STROHBOID Glamping gives its interior a very special light atmosphere. The outer layer (Airtext Magic Natur) is waterproof and UV resistant. The inner layer (Campshiled FR1) is open to diffusion. Thus, a pleasant indoor climate is guaranteed.
Mosquito protection and curtain
The curtains can be used to close the shelter stormproof. The additional mosquito protection curtain repels annoying vermin and additionally protects against wind.
Cooling and heating system
The special curved geometry creates a comfortable climate inside. The air conditioner is a heat pump, via the heat exchanger efficiency factor of 3 is achieved and gives a heating capacity of 4500W. The temperature can be raised by 15 degrees in the interior. Under full load, up to 25 degrees temperature increase is also possible.
Kitchenette and seating area
Equipped with a refrigerator, sink and ceramic hob, the kitchenette leaves no glamping wishes unfulfilled: Fresh coffee in the morning, quick pasta for dinner or a cozy cocktail in the evening - all this can be comfortably prepared and enjoyed by your guests.
Queensized bed
Heavenly sleep guaranteed: unforgettable glamping nights can be spent in the 1.60 m wide bed. The pull-out drawers built in underneath are lockable and create additional storage space for suitcases and valuables.
Terrace with roofing
To make the interior seamless with nature, there is a possibility to equip the glamping accommodation with a covered terrace at the front and back. This creates a total of 16 m2 more space, which provides additional feel-good space. Just right for deck chairs, yoga mat or an evening cocktail with a view.
Fully equipped bathroom
Thanks to the ingenious design, the space-saving and fully equipped bathroom offers maximum comfort in minimal space: toilet, sink with vanity unit, shower and 60l hot water boiler. Small details such as the towel rails on the bathroom door and the mirror with integrated infrared heating complete the comfortable experience.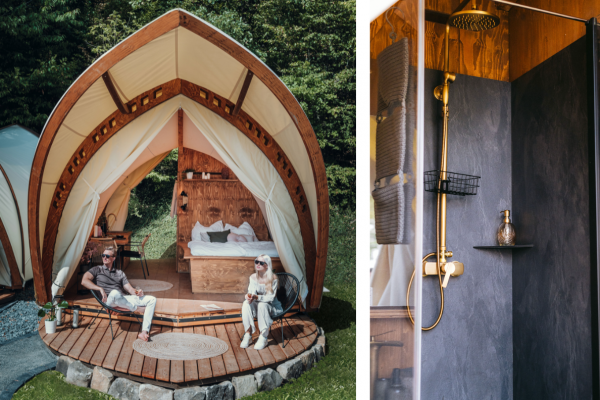 Why is the investment worthwhile?
A STROHBOID product is installed quickly and lasts for more than 30 years. See how this affects your ROI with our case studies.
In good company
Even though the use of STROHBOID lounges may differ from one installation to the next, they always have one thing in common: The wonder of the guests in the face of creative, sustainable outdoor solutions that make their stay even more pleasant, even more unforgettable. This joy is reflected in the satisfaction of numerous customers.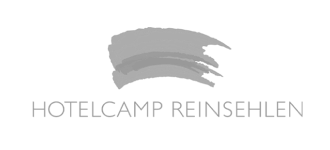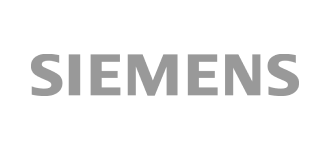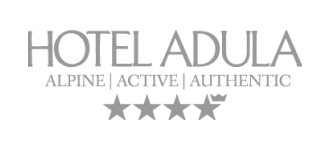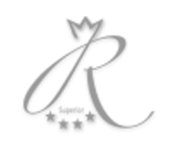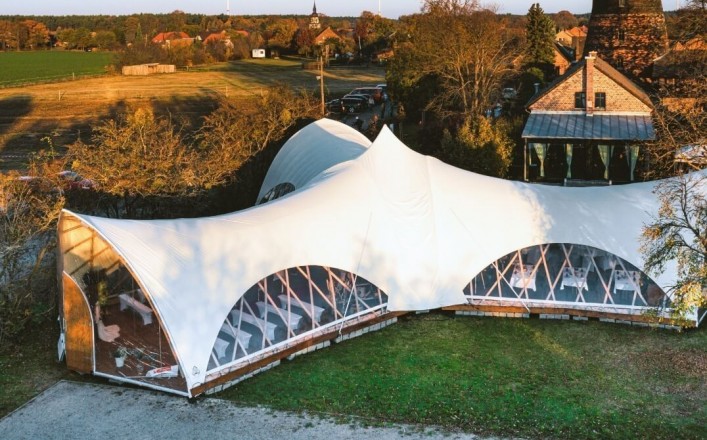 » A valuable solution to offer a large year-round event-space in any weather. «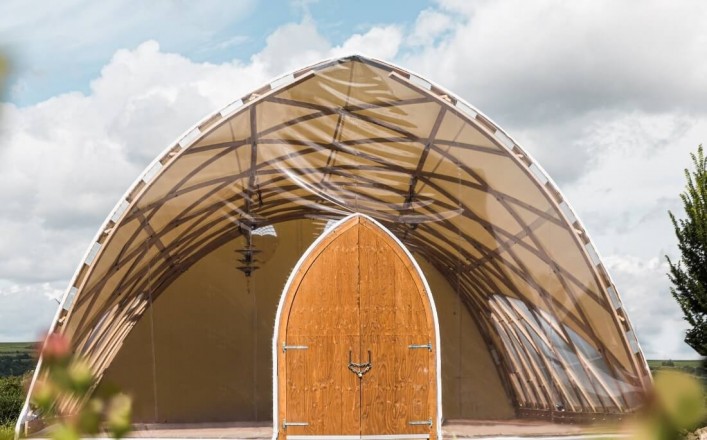 » The pavilion as a special unique selling point for our winery. «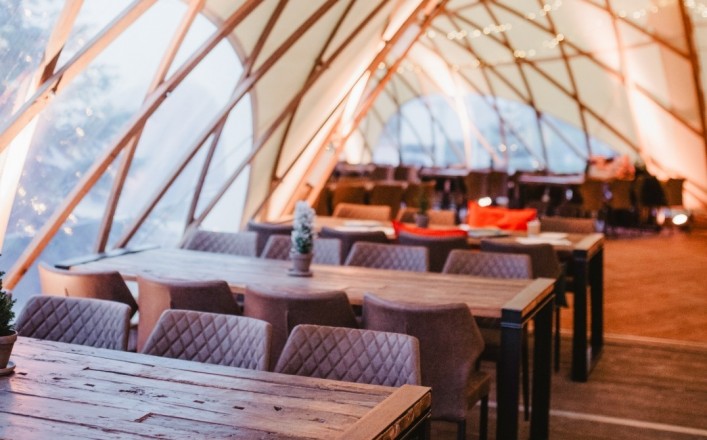 » Heated and aesthetic seating as an effective marketing tool. «

Read more from our Blog
We look forward to hearing from you!