Glamping tent application options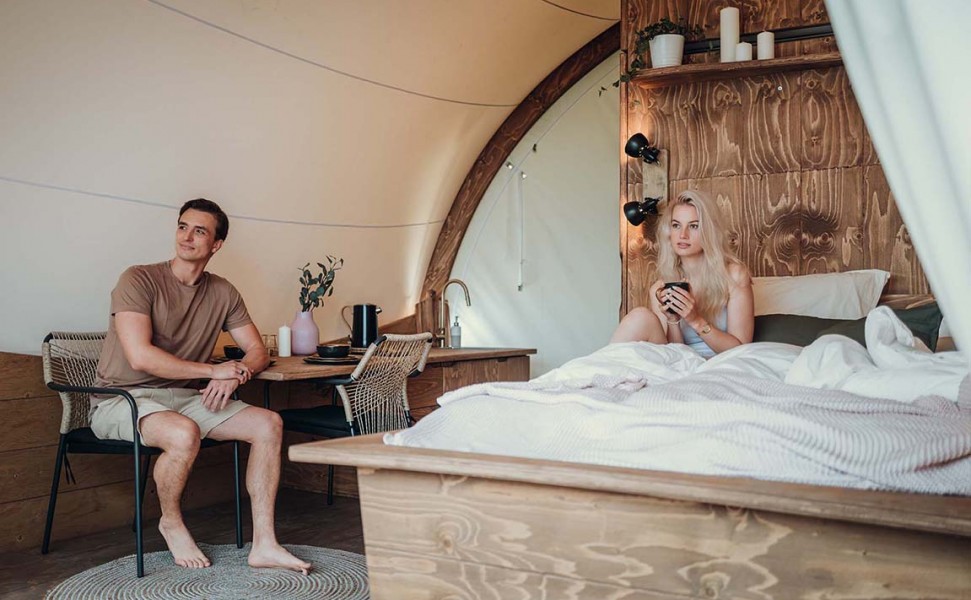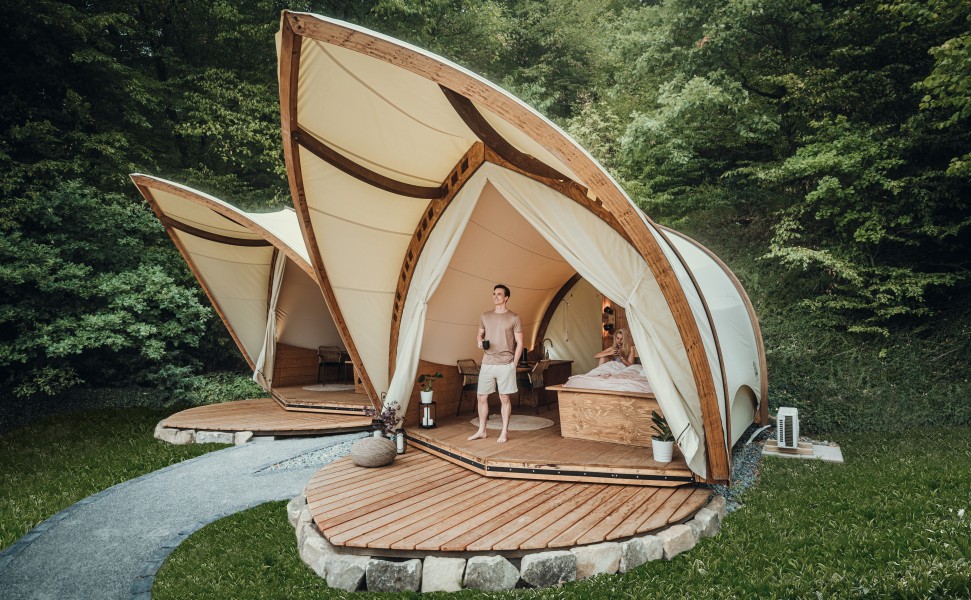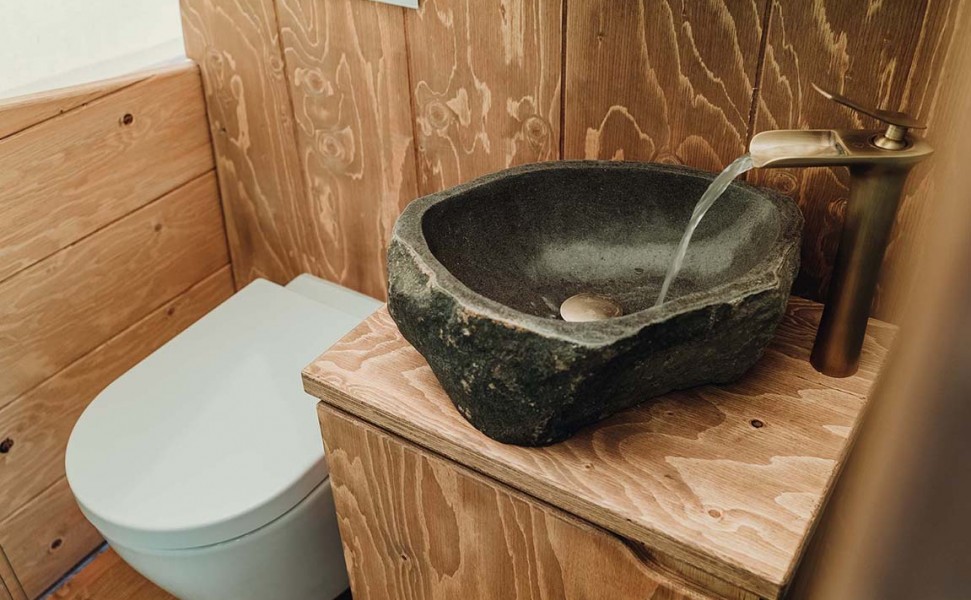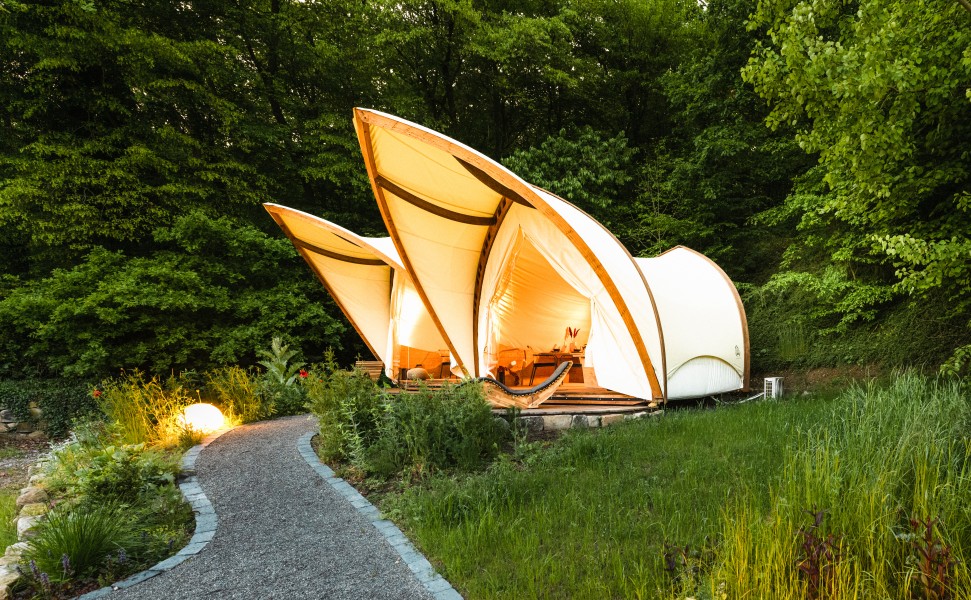 Unique glamping experience
Luxury camping (Glamping) impressively proves that the comfort of a hotel room does not have to be forgone when holidaying in nature: Luxury tents with comfortable beds, power supply and much more leave nothing to be desired.
Made from sustainable materials and with a pioneering design, STROHBOID Glamping tent wows as an exclusive outdoor hotel room on the beach, as a safari tent or arranged to create a full-fledged glamping place - a glamping village.
Glamping tent product features
👈 Click on the numbers to find out more.
Sustainable production meets iconic design: In an unmistakable way, STROHBOID glamping combines all the things that are of increasing importance to guests. The economical use of renewable raw materials such as regionally sourced LVL wood provides our innovative lightweight and protected designs with maximum stability.
You have the choice between fully equipped structures with fully functional bathroom, kitchenette and bed, or just the structure to be furnished.
STROHBOID wooden structure and flooring
Regionally sourced solid wood (LVL spruce/ Kerto). Due to the high-tech processing and innovative lightweight construction, this construction is enormously dimensionally stable. The wooden elements are treated with a natural exterior oil. The knotholes remain in their original form during processing and thus make each product unique.
Translucent membrane roof
The 2-layer and translucent membrane of STROHBOID Glamping gives its interior a very special light atmosphere. The outer layer (Airtext Magic Natur) is waterproof and UV resistant. The inner layer (Campshiled FR1) is open to diffusion. Thus, a pleasant indoor climate is guaranteed.
Mosquito protection and curtain
The curtains can be used to close the shelter stormproof. The additional mosquito protection curtain repels annoying vermin and additionally protects against wind.
Cooling and heating system
The special curved geometry creates a comfortable climate inside. The air conditioner is a heat pump, via the heat exchanger efficiency factor of 3 is achieved and gives a heating capacity of 4500W. The temperature can be raised by 15 degrees in the interior. Under full load, up to 25 degrees temperature increase is also possible.
Kitchenette and seating area
Equipped with a refrigerator, sink and ceramic hob, the kitchenette leaves no glamping wishes unfulfilled: Fresh coffee in the morning, quick pasta for dinner or a cozy cocktail in the evening - all this can be comfortably prepared and enjoyed by your guests.
Queensized bed
Heavenly sleep guaranteed: unforgettable glamping nights can be spent in the 1.60 m wide bed. The pull-out drawers built in underneath are lockable and create additional storage space for suitcases and valuables.
Terrace with roofing
To make the interior seamless with nature, there is a possibility to equip the glamping accommodation with a covered terrace at the front and back. This creates a total of 16 m2 more space, which provides additional feel-good space. Just right for deck chairs, yoga mat or an evening cocktail with a view.
Fully equipped bathroom
Thanks to the ingenious design, the space-saving and fully equipped bathroom offers maximum comfort in minimal space: toilet, sink with vanity unit, shower and 60l hot water boiler. Small details such as the towel rails on the bathroom door and the mirror with integrated infrared heating complete the comfortable experience.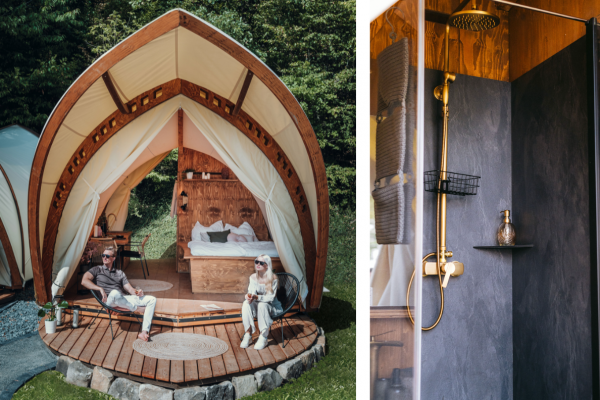 High ROI
Aesthetic and profitable space gain: in only 1 to 2 years your investment costs are covered.
Sustainability
The manufacturing of one lounge binds 2 tons of CO2 and consumes only 1.5 tons of CO2.
Design protection
STROHBOID structures are unique: our iconic design is protected.
25 Years Warranty
25 years warranty on the wooden structure and metal connecting parts. 10 years warranty on the membrane.
Materials & Equipment
High-quality materials combined with sophisticated design - the result is a compact, highly functional yet luxurious hotel room surrounded by nature.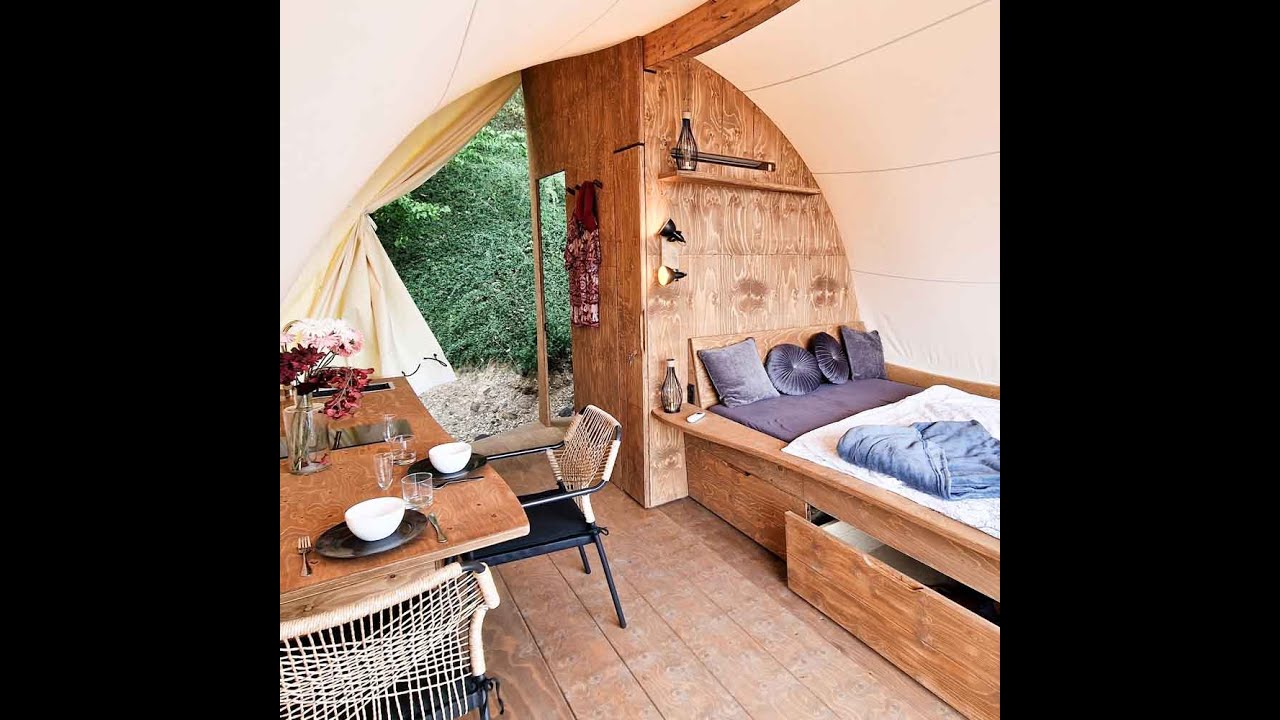 Directly ready for occupancy or glamping tent for self-design - the choice is yours.
Choose size
STROHBOID Glamping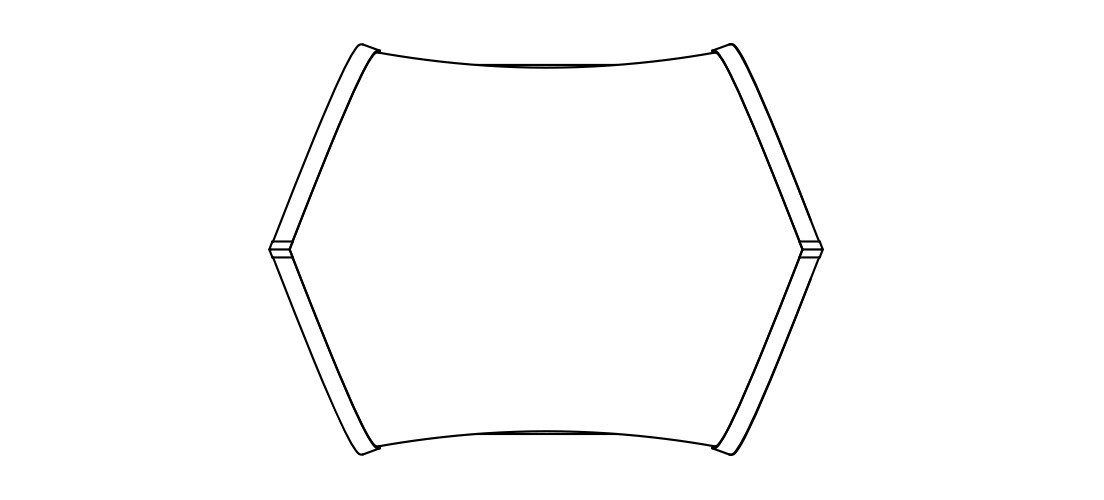 The single-layer membrane roof including weatherproof curtains and mosquito protection curtain gives you the basis to give the glamping tent from STROHBOID a very personal touch - for example with comfortable beds for luxurious safari tents.
Thanks to existing connections for heating systems, integrated lighting and electricity, the Glamping Simple and Basic give you enough leeway to pamper your guests with individual glamping equipment. In its Comfort equipment, the accommodation under its two-layer membrane roof leaves hardly anything to be desired. This ranges from extended electricity including heating and cooling system as well as atmospheric lighting to a comfortable double bed, dining table and kitchenette to integrated sanitary facilities.
Why is the investment worthwhile?
A STROHBOID product is installed quickly and lasts for more than 30 years. See how this affects your ROI with our case studies.
In good company
People all over the world have already experienced the most unforgettable moments in our outdoor solutions – emotional, memorable and unique moments.
Our customers report on their very personal success stories and the opportunities that open up under the roof of a STROHBOID pavilion – more impressive than we could ever do.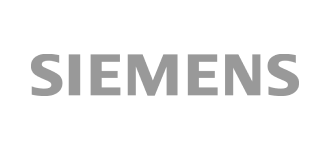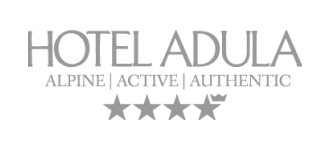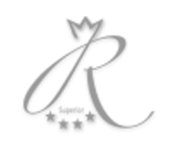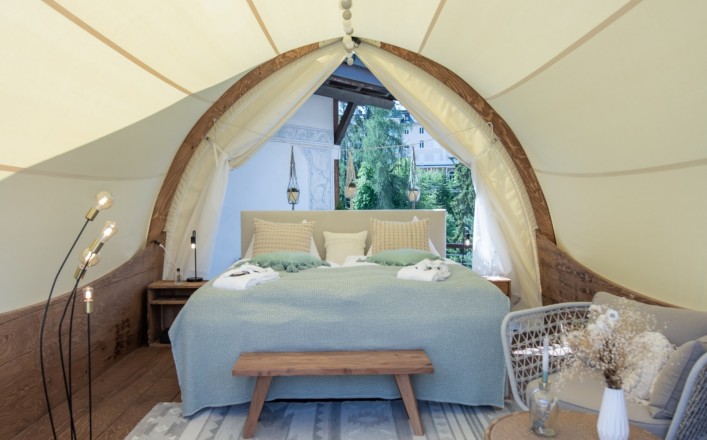 » With STROHBOID Glamping, we can offer our guests an outdoor area brimming with beach holiday flair in the middle of the mountains «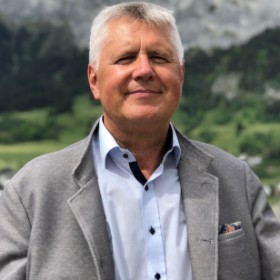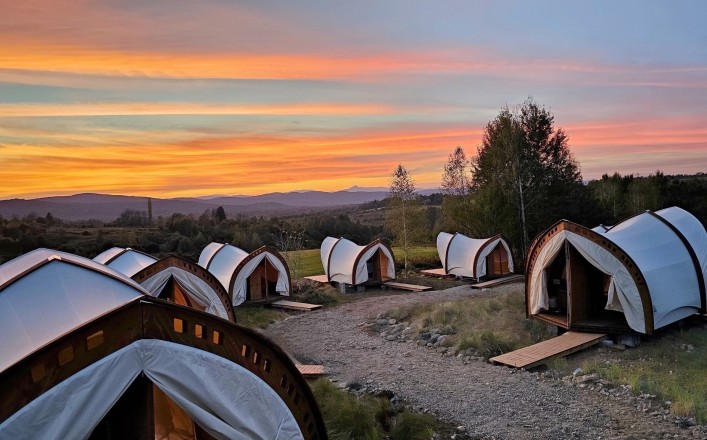 » Unique opportunity to offer our guests an overnight stay in addition to our café and our beach bar «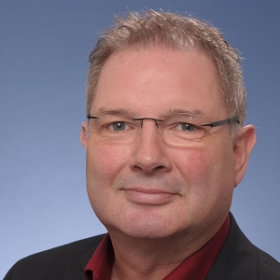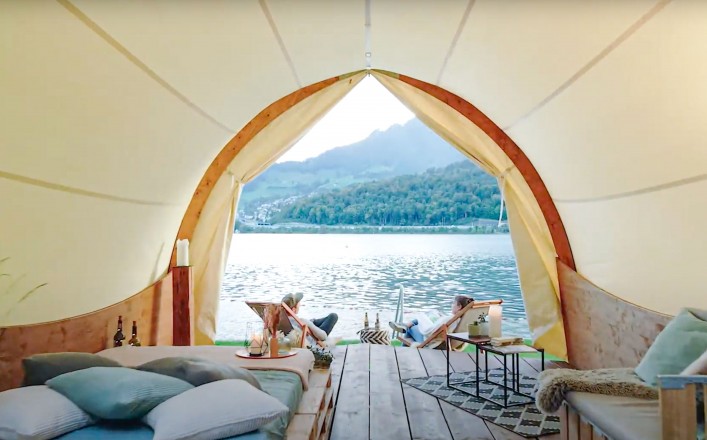 » With the STROHBOID Lounge, we have created a lake-side glamping experience in a class of its own right «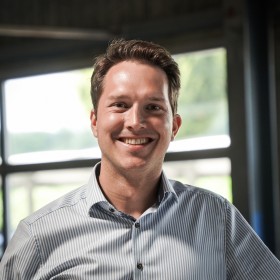 Florian Sommerhalder
Bieri
Download price list
Request the current price list now and calculate your sustainable investment of STROHBOID outdoor spaces.
We look forward to hearing from you!
FAQ
Can furniture be easily placed on the floor?
The floor made of LVL wood is very durable. This means that it can carry both single beds and heavier furniture such as double beds without any problems.
What delivery time is to be expected?
Depending on the selected equipment, STROHBOID Glamping can be delivered within six weeks. However, the delivery time for the Comfort equipment may currently be longer – just ask us!
What are the shipping costs?
The shipping costs depend on the kilometres travelled to the installation site. Let us know your location to receive detailed information about the delivery costs incurred.
What payment options are available?
How should the glamping accommodation be maintained?
The wood can be easily wiped off if it is dirty. Wood elements that are exposed to the weather should be re-oiled annually. The interior wood elements should be re-oiled depending on load (every 3 to 5 years) The membrane, curtains and mosquito net can be easily
cleaned with a soft telescopic brush & warm water and tarpaulin cleaner.
How best to prepare the surface that the STROHBOID will be placed on?
The surface must be treated with gravel. See the product plan for more details. Concrete foundations are an option for higher wind speeds.
How long is the warranty period?
For wood and metal parts we grant 25 years warranty. For the roof membrane in the premium version of the glamping tent we grant a 10-year warranty, if the specified maintenance intervals are fulfilled. The zippers, the curtains and the mosquito net are not included in the warranty, as their durability depends heavily on the users carefulness.
How long does the STROHBOID glamping tent last?
The wooden structure, the wooden interior and the metal joints have a life span of up to 100 years when maintained carefully. The roof membrane must be replaced approximately every 10 to 25 years, depending on the location and stress.
How stable is the glamping accommodation?
By using innovative solid wood (LVL) in combination with the sophisticated geometry, a basic wind speed of 120 km/h and wind peaks of up to 160 km/h (hurricane) can be withstood. In addition, the glamping accommodation withstands hail and snow loads up to 200 kg/m²
Is year-round use possible?
Yes, the glamping accommodation can be used all year round. In summer, the accommodation is cooled by the integrated heat pump. In winter, the accommodation can be closed with a transparent tarpaulin and heated with the heat pump. The temperature can be raised by 15 degrees (up to 25 degrees at full power).
Is the accommodation insulated?
The standard glamping accommodation is not insulated – but still heatable. If use is planned in winter in cold regions, we offer the option of insulation with sheep's wool. As a result, the required heating capacity is reduced and the overnight stay in the accommodation is possible without problems even in cold temperatures.