What is eco glamping?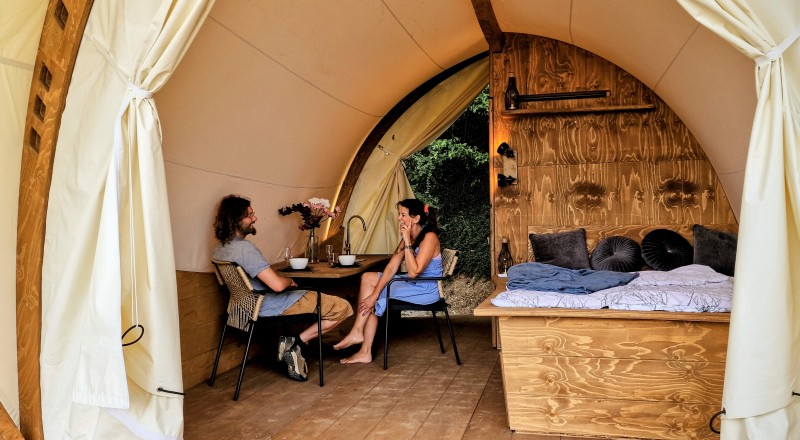 Eco glamping means glamping (glamorous camping)⁠in a way that is as sustainably as possible. Both glamping and ecological holidays are a popular trend among holidaymakers.
Eco glamping is booming
Holidays surrounded by nature and spent in a sustainable glamping tent are booming. The idea is to discover beautiful places while camping and being as close to nature as possible, while at the same time not harming the environment. The holiday should be as resource-efficient, socially responsible and sustainable as possible. Eco, green and gentle. We are going to take a closer look at this alternative type of holiday.
Eco holidays and eco travel are en vogue
Eco holidays and eco trips are en vogue. Travellers want to see the world, explore places surrounded by nature, discover food that is typical of a region. What they don't want is an environmentally damaging journey. They don't want to stay in a giant hotel complex and they don't need all-inclusive programmes with all-round entertainment as it is offered by some hotels.
Ecotourism offers alternatives such as glamping, for example – luxurious camping in a very special accommodation. Glamping accommodations such as tents, yurts, tiny houses or wigwams stand out thanks to their trend-setting designs; they are built sustainably and equipped with consideration. The locations of glamping tents adapt to their surroundings, but hardly interfere with nature. Glamping is a special camping experience: Close to nature, cozy and environmentally friendly, yet in style and glamour.
If you want are looking to spend an eco-friendly or environmentally friendly holiday, you should consider certain criteria: Choose a holiday accommodation that follows an ecologically justifiable concept. This means that attention should be paid to energy sources, water consumption and waste management.
In addition, the property should not interfere with nature in terms of architecture. Animal and nature conservation measures should be supported. There should be a focus on the use of regional and seasonal produce. Furthermore, the working conditions for employees should be fair. On site, environmentally friendly activities should be promoted.
Is glamping always sustainable?
No matter which holiday option you go for, it leaves its mark on the environment. But if the place is chosen wisely, this can have a positive impact on sustainability.
Especially when camping, you are on the right track in terms of keeping your ecological footprint as small as possible. Communal sanitary facilities and the nature-friendly design of rental accommodations make an important contribution. Energy efficiency and waste prevention at the campsite play another major role.
Glamping does not automatically have to be sustainable. However,glamping accommodations offer ideal conditions for an eco holiday. The design and equipment are well thought out and adapted to nature.
Interference with nature by sealing the soil is rarely necessary. Luxury tents are often set up directly on the ground or on wooden tent platforms, while treehouses are up in the air.
More about this: Sustainable glamping accommodation for hotels & camping operators
Glamping resorts can be found in the middle of nature, which is true luxury for nature lovers as they can enjoy peace and comfort as well as an atmospheric ambience thanks to the fact that glamping tents are built from natural materials such as wood.
Sustainability is a top priority. Regional products are used in the choice of materials in order to keep transport routes as short as possible and to strengthen the domestic economy. These criteria are important for people choosing an eco vacation. For the sake of the environment, glamour lovers are happy to forego wellness treatments and all-round care.

Eco glamping in a STROHBOID glamping tent
The STROHBOID glamping tent combines sustainability and luxurious camping and thus makes for a unique holiday surrounded by nature. A true feel-good atmosphere is created by the use of natural materials. The single-layer light membrane roof lends the glamping accommodation a special ambience. The LVL wood used provides sufficient stability and is also sustainable, as it is produced regionally.
The STROHBOID luxury tent is equipped with comfortable beds, a dining area, a kitchenette and a bathroom with toilet, providing maximum comfort. For the sake of the environment, greater interventions in nature are avoided: Connections for cooling and heating systems are provided and atmospheric lighting is integrated – an excess of electricity and water consumption is avoided.
---
---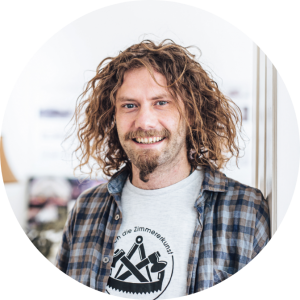 DIPL.-ING. Fritz Walter
Gründer, CTO