Glamping – luxurious glamping experience in nature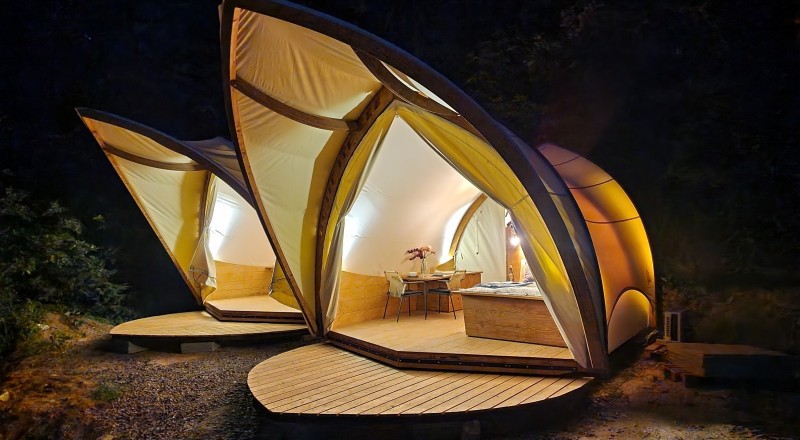 Glamping is just the thing if you want to go on holiday in nature, but don't want to miss out on comfort. Whether in Austria, on Lake Garda, in Istria, along the Côte d'Azur or in other places – a trip with overnight stays in a glamping tent is a special experience for young and old.
In this article, you will learn why luxury tents are worth a visit and what matters when glamping. In addition, you will find an overview of the different glaming accommodation options.
Glamping - how does it work?
Glamping is nothing more than luxurious camping. If you opt for glamping, you don't have to bring your own equipment and can enjoy the advantages of very comfortable and usually exceptional accommodation in the middle of nature - whether in Austria, Germany, Croatia or other regions: Glamping has the potential to upvalue any campsite.
The term glamping is composed of "glamorous" and "camping". Glamorous camping describes luxurious and creative accommodation in nature: Whether a lodge tent, tiny houses or tree houses, as long as the accommodation is comfortable and aesthetically pleasing, and you wake up with a view of a stunnung scenery, the glamping experience is perfect. Glamping resorts can be found in a wide variety of designs - be it the classic campsite that also provides glamping or, for example, hotels that convert their open spaces into anoutdoor lounge. Spending the night in exceptional accommodation is an experience for the entire family.
Since a suitable glamping accommodationcan be found for virtually every budget, the concept of glamping has seen a steady increase in popularity for several years now.
Would you like to experience a holiday in nature that is at the same time as comfortable as possible? Then glamping is just the thing for you! For those who don't feel like rustic camping but still want to be close to nature, a luxury tent holiday offers a comfortable outdoor adventure that leaves nothing to be desired.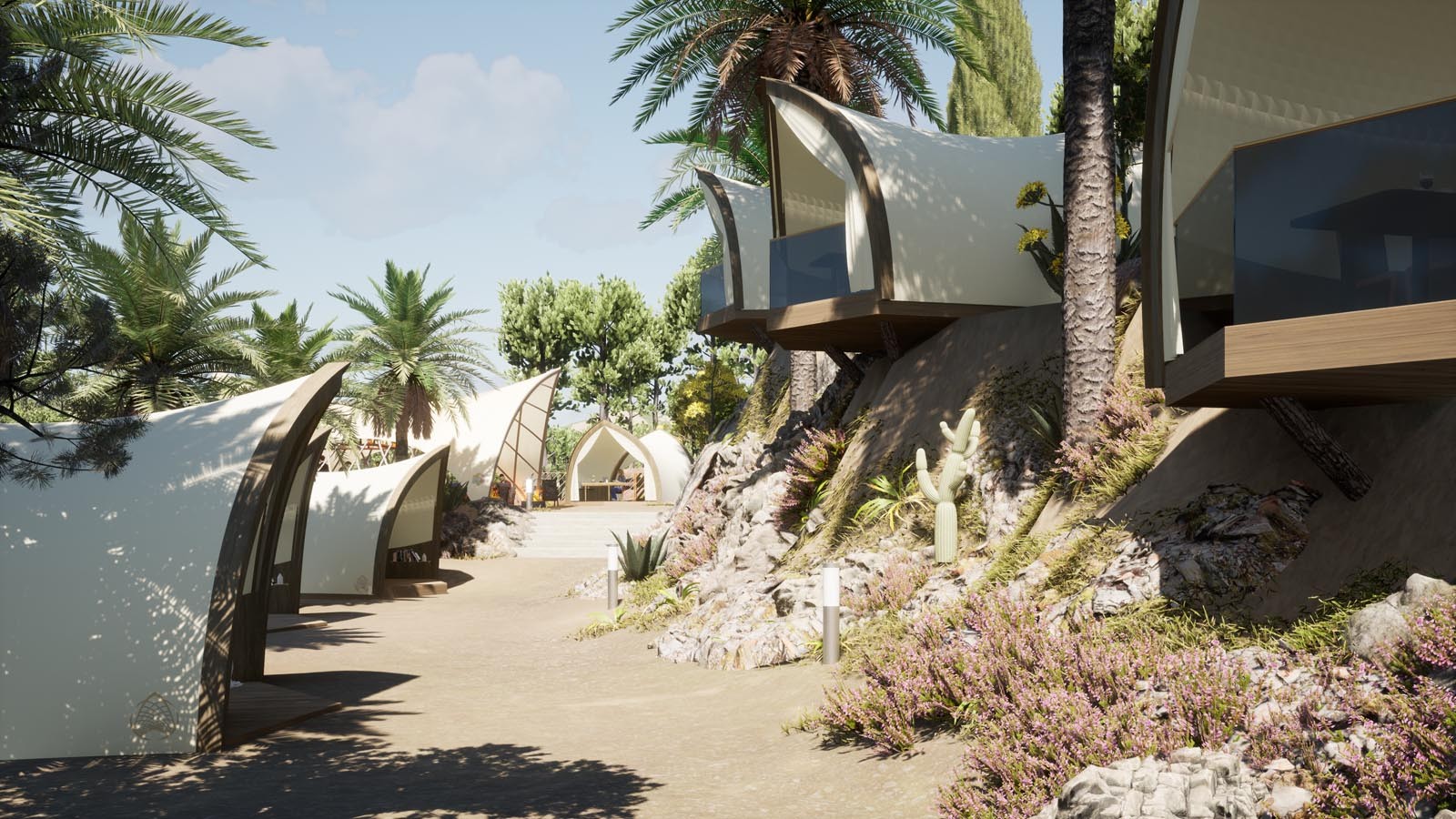 When did camping start?
At the beginning of the 20th century, the camping trend started in Germany with the Golden Twenties. If employees had previously no statutory entitlement to leave, the short break was suddenly no longer a luxury. With tents and simple furnishings, they spent a few days cost-effectively and uncomplicated in nature, in order to gain a little distance from the strenuous everyday life. It was the start of the so-called "weekend movement".
If camping was too rustic, people often used a so-called folding boat. Simple tent panels were replaced by a combination of densely woven cotton as a roof and a rubber floor. With the invention of the down sleeping bag and the air mattress, spending the night in nature became more pleasant and eventually amounted to a real holiday. In the wake of World War II, most people could only afford to go on holiday again after a few years, with the onset of the "economic miracle". 1931 saw the inception of the caravan.
The camping industry has been booming since the 1960s. To this day, vehicles such as the VW bus are being converted for camping, and constant technical innovations and campsite modernizations make holidays in nature more and more comfortable. Bavaria, Lower Saxony and the Baltic and North Seas are among the most popular regions for campers in Germany. In Europe, campers are a frequent sight in Denmark, Austria - for example in Styria or in Upper Austria - in Germany, the Netherlands or Croatia. Today, camping is no longer synonymous with simple holidays but you can rather find the right place for everyone – whether it's a simple forest sitsze or glamorous camping.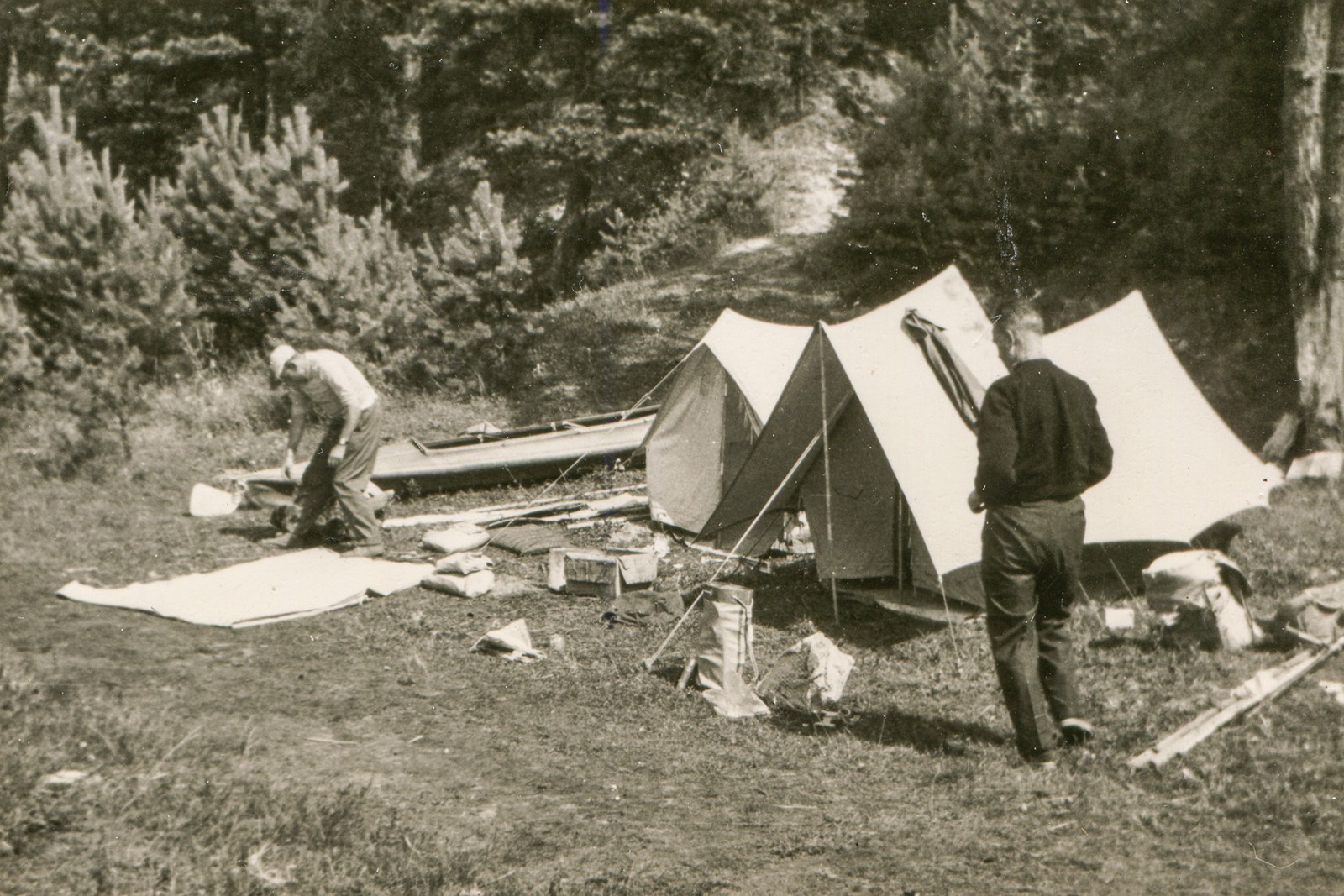 What is a glamper?
Luxury glamping tents for glampers are often located in a separate part of a "normal" campsite. This has the advantage that glampers are amongst themselves and enjoy feeling of exclusivity without missing the feeling of freedom and adventure. Most of the campsites are located by the sea or even have private swimming pools.
Since glamping means that you are renting a corresponding object from the campsite operator at Glamping, you do not have to bring a tent or caravan, which makes preparations and packing all the more easy. Everything you need for your comfortable holiday will be readily available at the property. In addition, each glamping tent often even has its own bathroom, so you don't have to make do with the classic shared lavatories.
Do you really want a very special glamping adventure? How about an overnight stay at a treehouse? These tree houses have not much in common with classic wooden huts. They offer comfortable beds and enough space for the entire family. Or would you prefer a safari lodge with a four-poster bed, or a luxury mobile home from which you can enjoy special glamping offers such as wellness, whirlpool and the likes? There are hardly any limits!
Glamping accommodation - what types are there?
Safari tents as glamping tents
The most classic form of the glamping tent are safari tents. Here you will not only enjoy the benefits of a real bed, but usually also a private bathroom and a kitchen. Safari tents are now available not only in Africa, but also on German glamping sites!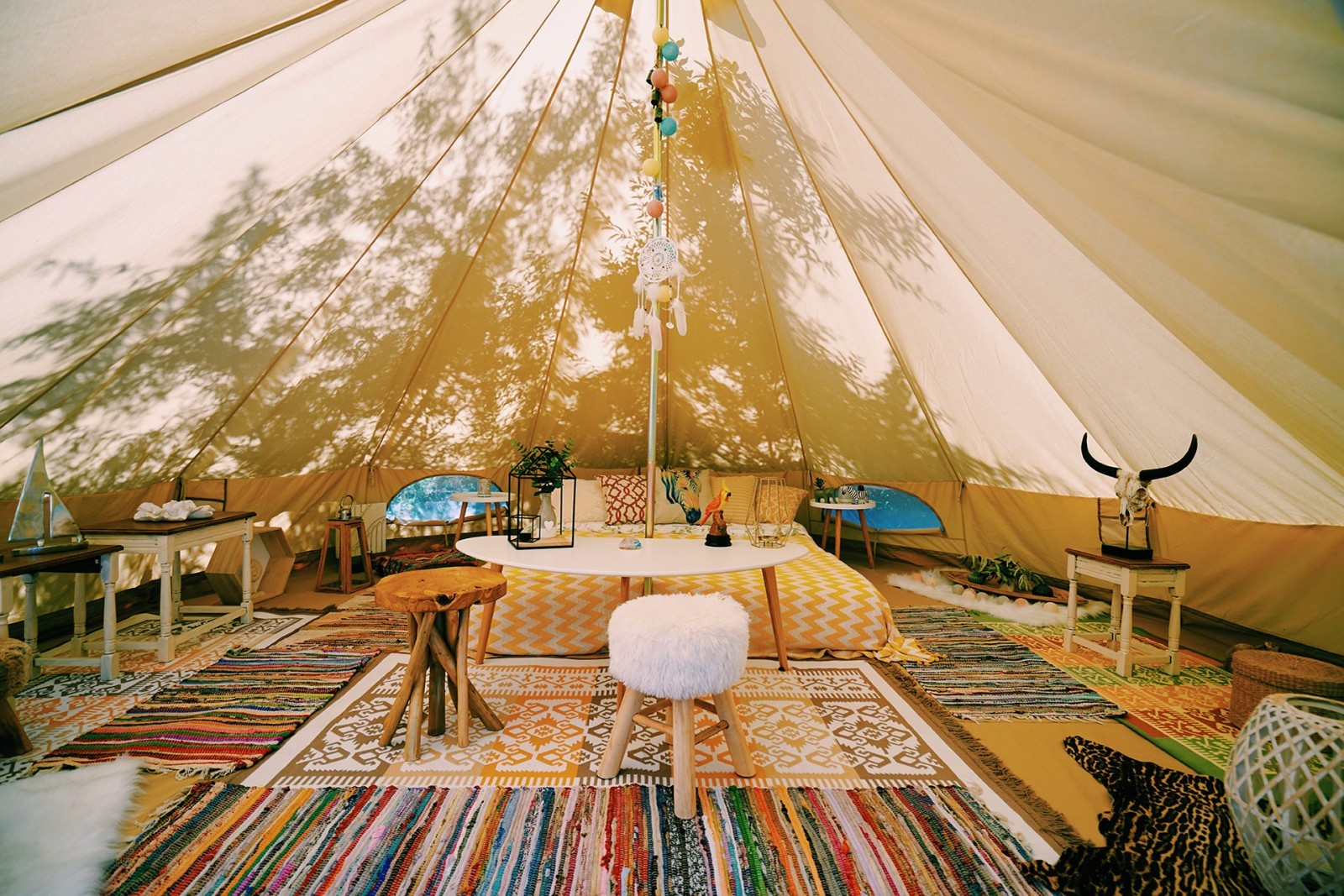 Lodge tents – true luxury tents
You like it even more luxurious? Lodge tents are larger and better equipped than safari tents. They usually divide into several rooms and have a covered terrace made of wood, and sometimes even a window front made of glass – they are kind of an outdoor hotel with comprehensive tent luxury.
Glamping in pods – holidays like in a holiday home
Small wooden huts in the shape of a tent are called pods – they resemble a small cottage. Compact, but fully equipped, you will find everything you need for perfekt holiday: A bed, bathroom and often a small kitchen of your own. Even if pods are reduced to the bare essentials, they offer the highest level of comfort. The best? No bad weather can harm you here.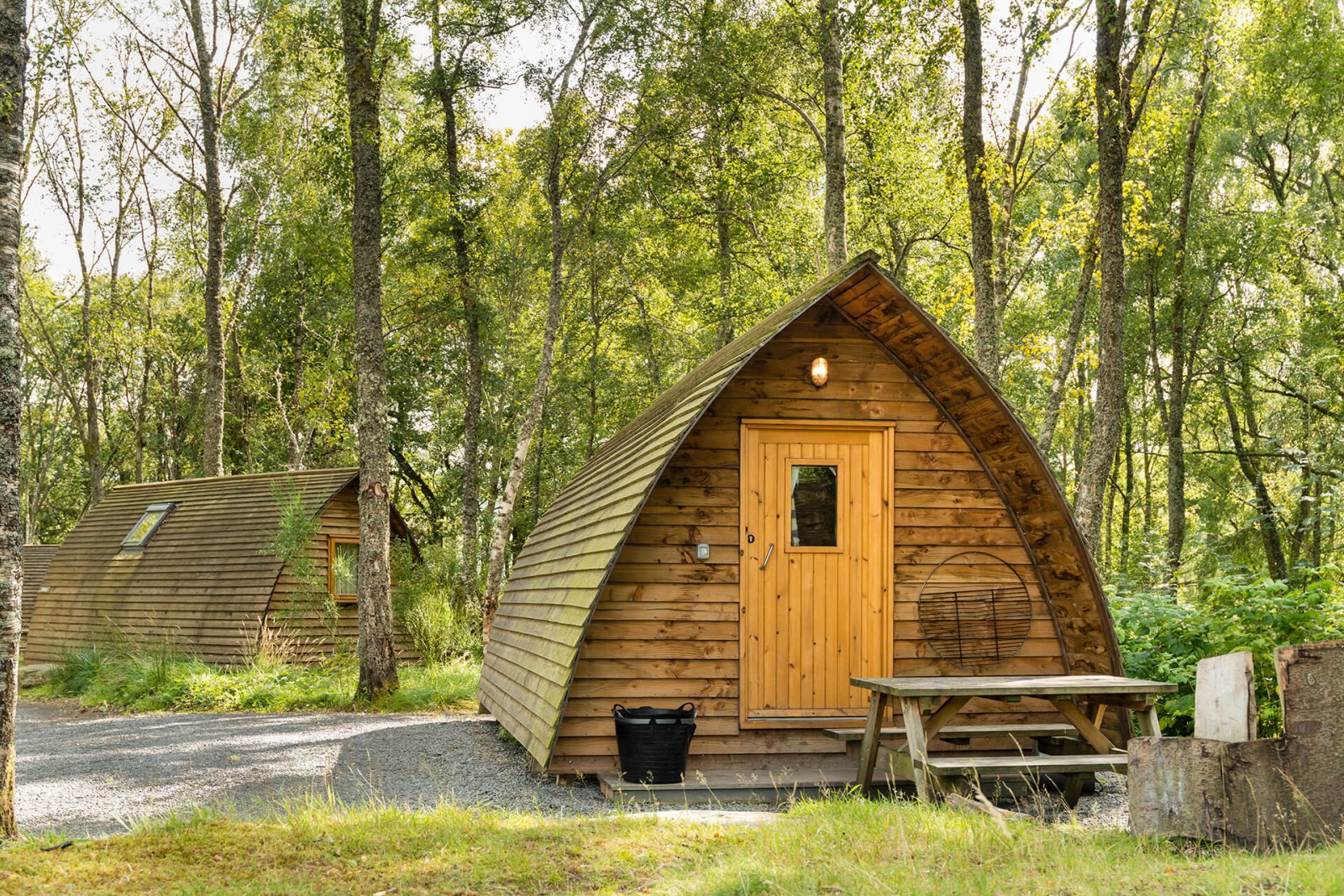 Bungalows, cabins and luxury lodges
Bungalows, cabins and luxury lodges are individual, fixed, detached accommodation units distributed over a larger complex. Depending on the glamping site, the equipment varies from simple to luxurious. Although you can take advantage of the amenities of a classic hotel, the special proximity to nature remains a highlight.
Yurts and tepees
Yurts and teepees are tents on a wooden structure. Yurts are the classical form of living of the nomadic peoples in Central and West Asia; the Native Americans used to live in tepees (they resemble a wigwam, which are usually immobile). They are stable, but kept simple. Kitchen and bathroom are often outside the tent.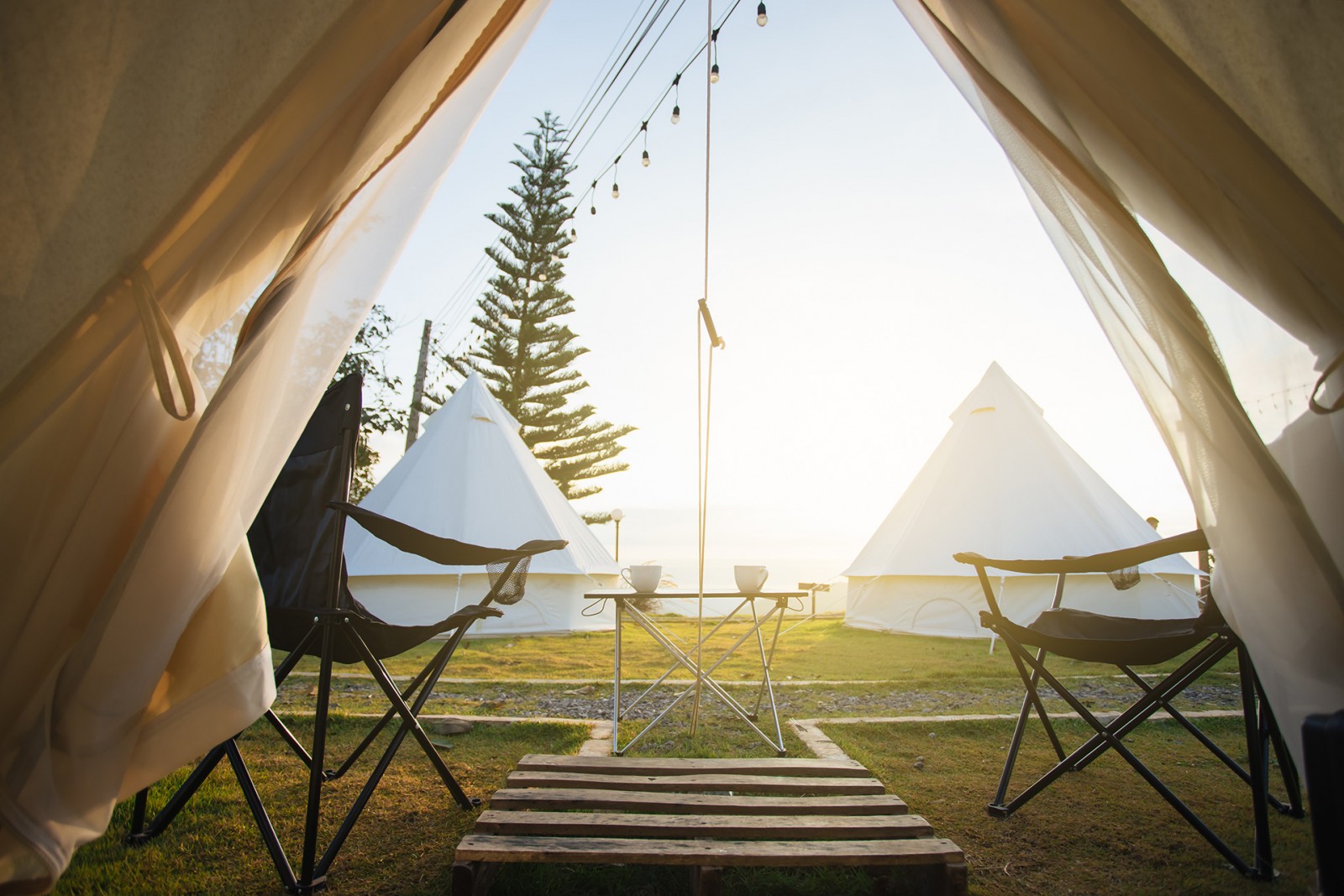 Glamping in a treehouse?
If you want to camp extravagantly, an overnight stay in a treehouse may be right for you. The small huts in lofty heights are usually supported by stilts, accessible via a ladder and fully equipped. No matter where the treehouse is located – you will experience a night of a special kind.
Luxury camping destinations in Germany, Europe and beyond
The whole of Europe is ideally suited for the luxurious way of camping. Numerous glamping accommodations catering to different tastes can be reached without relatively quickly and allow you a break with that certain extra in the middle of nature. In Germany, local regions are still popular - be it in Bavaria, on Lake Constance or in a beautiful bungalow on the shore of the Baltic or North Sea.
But there are also more and more glamping destinations beyond the borders of Germany, with their popularity constantly increasing. Whether on the impressive sandy beaches of Italy, Spain or Croatia, next to one of the beautiful lakes in Slovenia or as part of a wine tour through France – the range of attractive glamping destinations is colourful and diverse.
And even outside Europe, glamping is not unheard of. How about a destination in Thailand, the USA or the Maldives?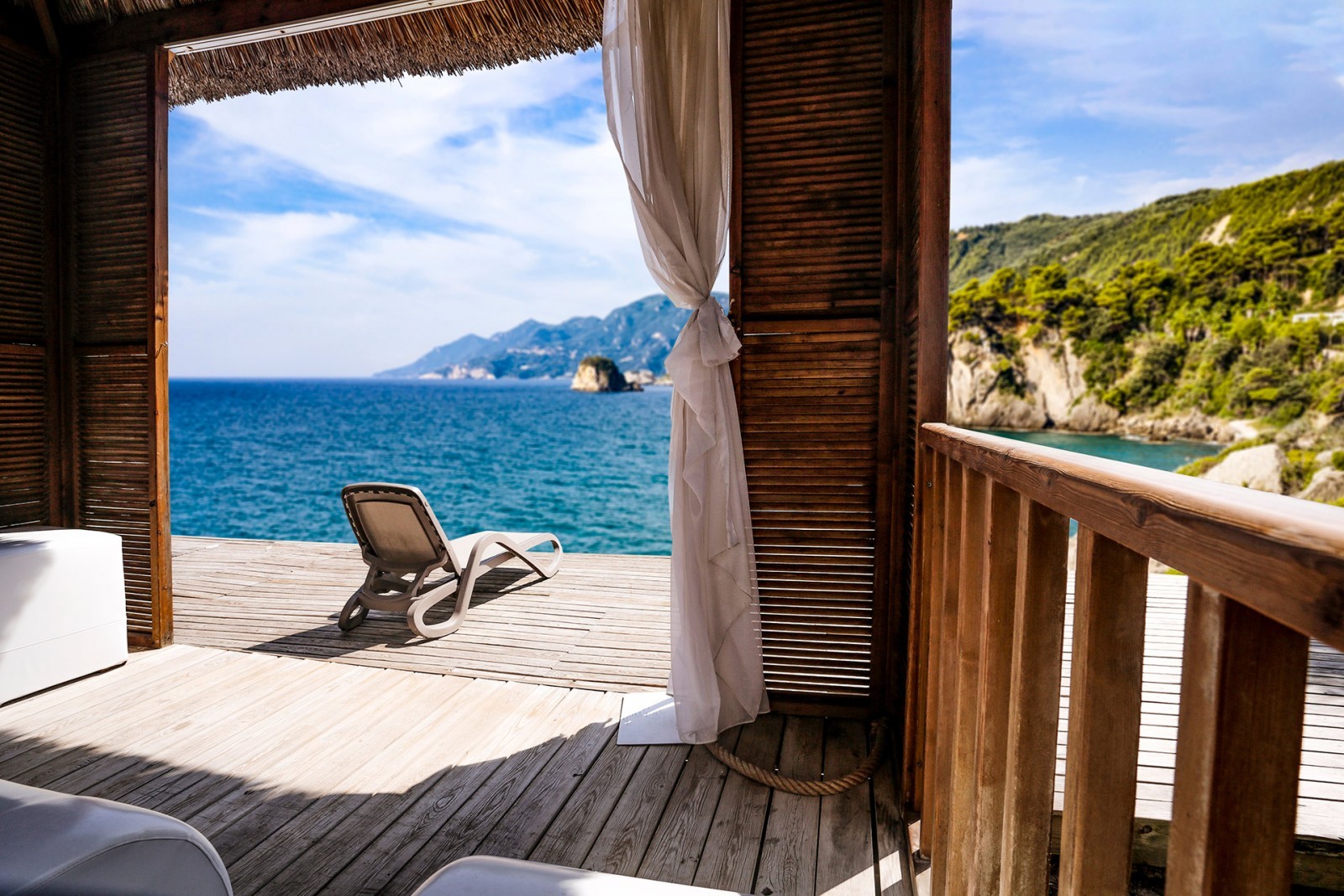 What are the advantages and disadvantages of glamping?
Luxury camping gives you the opportunity to experience nature in all its beauty without sacrificing the comfort of a hotel. Glamping offers many advantages compared to classic camping.
All the advantages:
No construction necessary – you can move into your accommodation without having to do any annoying construction work.
Fully equipped – your accommodation is already fully equipped. You will find everything you need on-site.
High comfort – a cuddly bed, a private bathroom, Wi-Fi or a TV: Glamping leaves nothing to be desired.
Individuality – from rustic to modern, a couple's holiday or the entire family: at Glamping, everyone will find the right accommodation.
Even if there is a lot to be said for the modern way of camping, there are certain disadvantages.
All disadvantages at a glance:
Lack of spontaneity - since you are tied to a location, it is rather difficult to change location at will. It is more a classic holiday than a road trip.
Internet connection – e-mails, social media, constant accessibility: Those who are constantly online cannot really switch off. What many find practical is actually poison for any deceleration.
Worse eco-balance – compared to classic camping, glamping often consumes more energy and resources. However, many glamping providers are paying more and more attention to environmental protection, energy efficiency and the avoidance of waste more.
Sustainable glamping experiences with STROHBOID
As a glamping tent manufacturer, STROHBOIDmanages to make glamping not only comfortable and natural, but also environmentally friendly and CO₂-neutral. The sturdy glamping lounges are made of local softwood, and, defying wind and weather they are in no way inferior to a hotel room. Thanks to infrared heating, STROHBOID⁠allows you to enjoy the very special flair of a holiday in nature even in winter – and without a guilty conscience.
The options of using STROHBOID glamping tents are manifold, be it to increase overnight accommodation capacity for hotels, as bungalow extensions on campsites or eye-catchers in your own garden – purchasing a glamping tent equals a conscious decision for natural experiences and originality.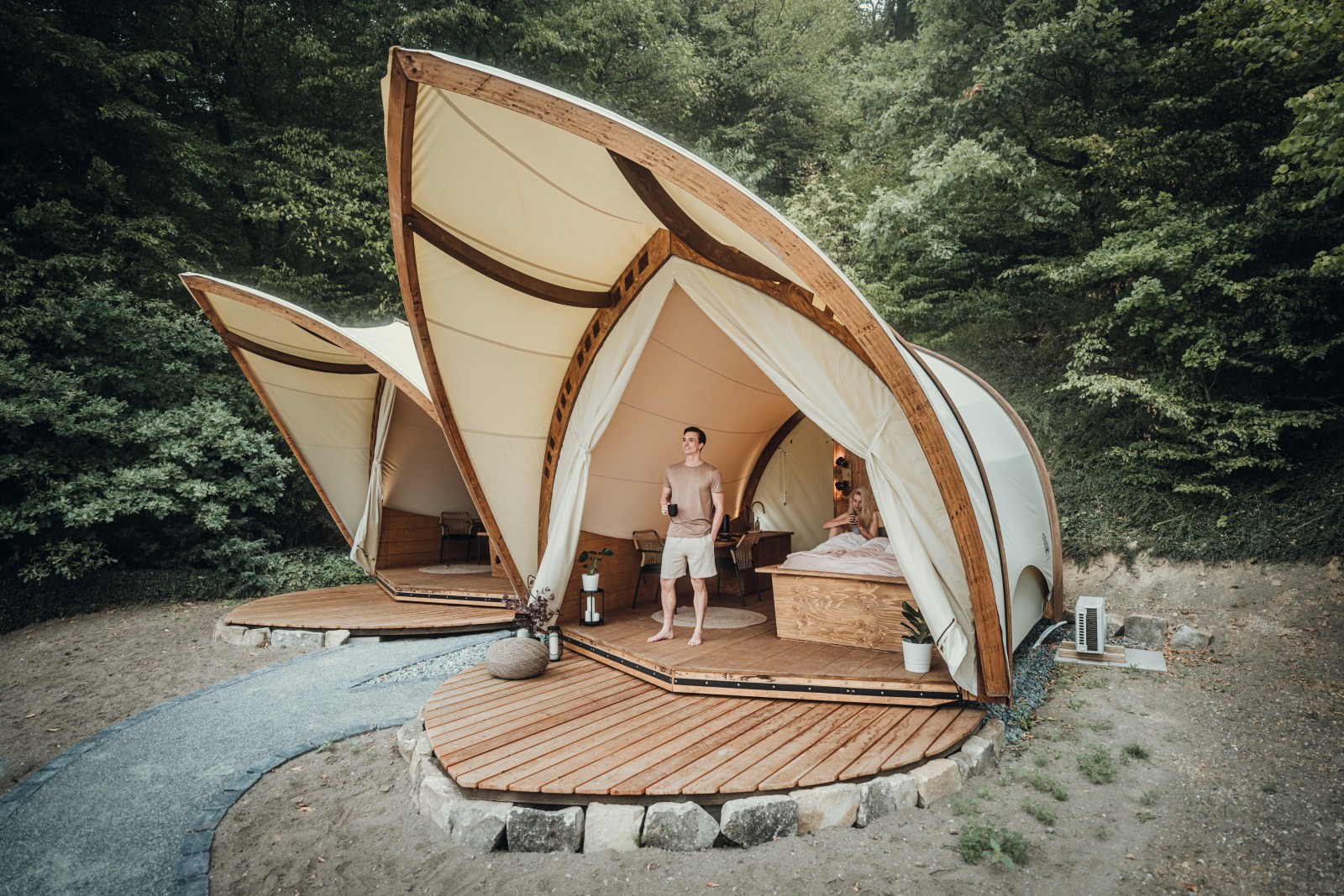 ---
---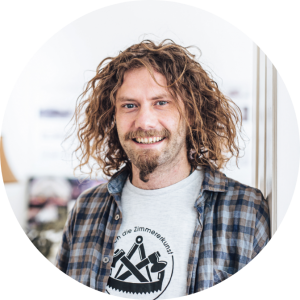 DIPL.-ING. Fritz Walter
Gründer, CTO